Major clients/partners
References of Beijing Global Strategy Consulting Co., Ltd. cover a variety of countries and clients. Some clients request not to be mentioned.
International companies (Israel, Belgium, France, Germany, USA, Greece, Italy, Switzerland, etc.); Chinese State-Owned Enterprises; Chinese Government entities; foreign government entities (Germany, Israel)
Prior assignments
Negotiation and Development Director with Beijing State-owned Assets Management Co., Ltd.
Delegate Investment Promotion, Office for the Beijing Olympics 2008 projects with the Beijing Development and Reform Commission (Olympic Ownership Tenders)
Senior Consultant for the Olympic Economy, appointment by the Beijing Municipal Government on 18 April 2005.
A few examples
Nomination for the 2008 Olympics:
020726 appointment.pdf
020801 2008position.pdf
The Ownership Tenders: short introduction (September 2002)
The Ownership Tenders started in August 2002 and the process was basically concluded during 2003, except for the Shunyi Equestrian Park; the venue was changed to Hong Kong
020901 ownership.pdf
On 1 March 2003 our company entered into an agreement with "Beijing State-Owned Assets Management Co., Ltd." ("BSAM") to provide a wide range of consultancy services, mainly related to the Olympic projects:
Our main office was located within BSAM 's new office (Focus Place, Financial Street)
Mr. Gilbert Van Kerckhove was appointed "Negotiation and Development Director"
Ms. Sun Bin wa"s appointed "Administration Director"
BSAM was appointed by the Beijing Municipal Government as the asset owner for the National Stadium and the National Swimming Center. BSAM manages a large share of the total assets of the Beijing Municipality.
"Olympic Games advisers win new positions" (April 2005)
050423 xinhuanet.pdf
"50 foreign experts granted Friendship Award" (September 2005)
050929 xinhuaweb.pdf
Current assignments
Gilbert Van Kerckhove and his team is since many years working closely with China State Grid, presently as Senior Director, International Project Coordination with Shandong Electrical Engineering & Equipment Group Co,. Ltd. Focus is recently on projects in Senegal and other African and Asian countries.
The company is a shareholder in Jiamei Dental Medical Management group. Gilbert Van Kerckhove is a director.
On 1 January 2017 Gilbert Van Kerckhove and Sun Bin were appointed as Senior Economic Advisor of the New District of Zhengpu Port, MaAnShan City (Anhui), for an three-year assignment.
On 10 January 2017 Gilbert Van Kerckhove was appointed Senior Advisor of the China Asia Leisure Industry Promotion Association.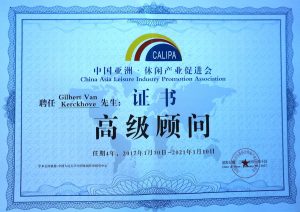 Other active areas: sea water desalination, plastics recycling for railroad construction, public bus manufacturing, technology for high-speed cars, modular home construction, and more.